Which Cities are not affected?...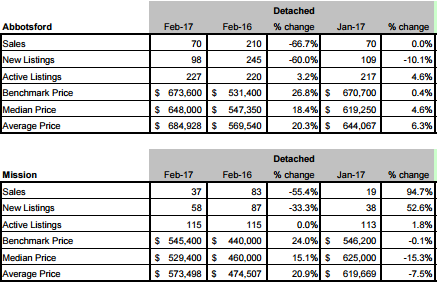 (Source: Fraser Valley Real Estate Board MLS® statistics)
The Foreign Buyers Tax has left us wondering what is going on with the Greater Vancouver housing Market and what are it's effects. We know it caused a significant slow down in house sales and sale prices have been felt it in Metro Vancouver, but what out about in the outskirts? Well, for starters, it has certainly helped some cities unaffected by the tax such as Mission and Abbotsford. Their popularity has now grown and prices continue to rise faster in the housing sector than they have in history.


Here is a quick Q & A to update those who haven't followed what is going on 
or don't know much about it:
Q: What is the Foreign Buyers Tax?
A: Effective of August 2, 2016 the government introduced a law that requires Foreign nationals who buy real estate in Metro Vancouver to now have to pay an additional property transfer tax of 15%. Note: Anyone who isn't a permanent resident of Canada is a foreign national (Yes, that even includes our American neighbors)


Q: Is it effecting the entire Lower Mainland?
A: No, the tax only applies to the Greater Vancouver Regional District and certain areas of the Fraser Valley – those areas of the Fraser Valley being: Surrey, White Rock, Langley and North Delta. 
Q: So what cities in the lower mainland are exempt from the tax?
A: Mission, Abbotsford, Chilliwack and Hope.
So, with this quick understanding of B.C.'s new Foreign Buyer Property Transfer Tax we now understand that it has shifted a lot of foreign buyers towards the nearby cities closest to the division boundaries of the GVRD. Mission & Abbotsford are experiencing a wide growth in housing popularity since August 2016, partly as a result of the absence of the Foreign Buyers Tax!


As you can see demonstrated in the chart above for Abbotsford BC houses for sale, there has been a rise of 20.3% of the average selling price within the last year. The same with Mission BC houses for sale, where there has been a rise of 20.9% of the average selling price within the last year.
Now having said that, it may make sense as a local buyer, or even a foreign buyer that you may want to jump into either of these areas soon! Just like the stock market, the best time to buy is when it is on its way up.

I hope you've gained a better understanding of the Foreign Buyers Tax and how it does not apply to some Fraser Valley Cities.


Whether you're a foreigner buyer or not, check out the current listings of houses for sale in the cities unaffected by the tax that are looking to be very promising holding properties and investments here: 
If you have any more questions about the tax or the current real estate market, feel free to contact me, I'm here to help! For more helpful tips and advise call on the expertise of Donna Fuller REALTOR®, Full time dedicated real estate professional with 30 years of experience. 
Fill out the contact form.
 Or if you prefer, Call or Text direct Donna Fuller - mobile 604-683-1393