After a long day at work, one may desire to unwind at one of these many golf courses in the area . . .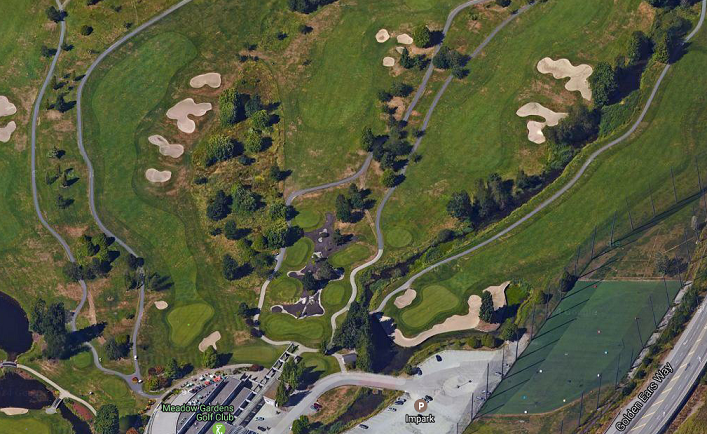 Meadow Gardens Golf Course
 (18 holes, semi-private)
604-465-5474
19675 Meadow Gardens Way
Pitt Meadows V3Y 1Z2
Rebirthed in August of 1994, this course can easily lay claim to being one of the most popular course in BC

(18 hole public course)
604-465-9221
Golf Lane
Maple Ridge V2X 1M2
One of the first courses built in the Fraser Valley. Established in 1926.
Hacker's Haven Par 3
(9 holes, public)
604-467-3061
12309 240 Street
Maple Ridge V4R 1M9
Hackers was established by The Chaplin family who bought the land in 1976

Pitt Meadows Golf Club
(18 holes, public)
604-465-4711
13615 Harris
Pitt Meadows V3Y 1Z1
Situated on the old Greybrook Farm property and established since 1963, this popular Golf Club has offers its members and guests a picturesque backdrop of the Golden Ears Mountains.
web site: 
https://www.pittmeadowsgolf.com/
Swaneset Bay Resort & Country Club
(36 holes, public)
604-465-3888 1-800-235-8188
16651 Rannie Road
Pitt Meadows V3Y 1Z1
Golden Eagle Golf Club 
(36 holes, public)
604-460-1111

21770 Ladner Road
Pitt Meadows, BC V3Y 1Z1