Planet Ice, Maple Ridge Albion Fairgrounds Corner of 105th and Lougheed Hwy. . .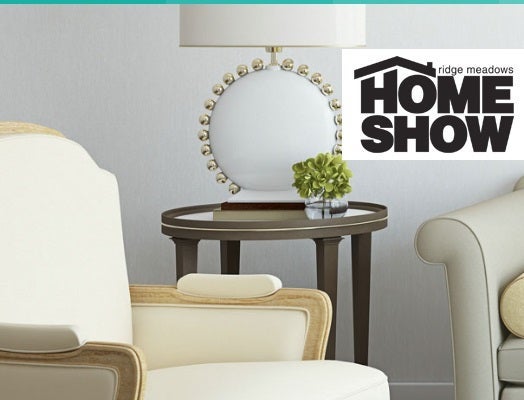 23588 – 105th Avenue, Maple Ridge, BC 
Ridge Meadows Home Show...
One of Western Canada's largest home shows, with more than 375 exhibitor booths showcasing renovations, construction, decor, furnishings, electronics, landscaping, wellness, housewares, 'girlstuff', cooking and more.
Enjoy tasty samples or dive right in at our fabulous new Food Truck Festival, get the kids revved up at our huge free Family Fest and jumpstart summer with everything you need for your backyard.
Its all here: hundreds of dazzling displays with everything for you, your life and your family—-and a whole lot more. Check us out:
IN THE BUILDINGS:
CURLING RINK LOBBY:
SAMPLING AREA
Getting Ridge Meadows Home Show off to a tasty start is the sampling area–a perennial favourite with show goers. This year the area will feature President's Choice products from Real Canadian Superstore along with a great line-up of vendors offering "tastes" and ensuring visitors keep their strength up as they navigate three buildings filled with ideas, innovations and products.
BODY, MIND AND SPIRIT PSYCHIC FAIR
A quick detour will take you upstairs in the curling rink to the Body, Mind and Spirit Psychic Fair. Get tuned in to your inner life at this illuminating event that spans the gamut of esoteric pursuits like mediumship and healing with Akashic Records. With an open mind and a searching heart you'll be on the path to discovering new things about yourself—and may even receive a message from beyond.
CURLING RINK BUILDING A
Renovating, building, landscaping……
If it's the great outdoors you want to spruce up, or, if you're dreaming about adding a new deck, Building A is where you'll find everything you need. If you're ready to tackle that big home project stop by Building A to find all the traditional building elements…roofing, siding, solariums, decking and, of course, all the experts in installation. Haney Builders' Supplies will also be on hand to showcase new products and answer "how to: questions.
PLANET ICE BUILDING B
Wellness, Housewares, Marketplace…..
If you love those unique gadgets and one of a kind items, be sure to shop the marketplace. Then prowl the colorful 'girlstuff' section where you'll find jewelry, cosmetics, spas, linens and even the most popular anti-aging product on the planet. You'll also find a wide range of exhibitors dedicated to your beauty, health and fitness in the Building B wellness section. Don't miss test-driving the electronic facelift and other "try it" items—all in the wellness section Building B.
PLANET ICE BUILDING C
Decorating, home theatre, appliances….
Ready for a decor face-lift? Time to face the fact that you're swimming in clutter? You'll want to check out Building C where Ronnie Vanstone of Design Alley takes center stage expounding on the elegant, on trend virtues of "Simply White" and offers complimentary design consultations.
Building C also features flooring, furnishings, window fashions, home renovators, hot tubs, paint and wall coverings, décor items, kitchens, appliances, electronics, woodwork and design items, including artwork.
ON THE GROUNDS:
TRAINS AND BOATS AND PLANES…
How does that old song go? Well, we have at least one train and although we're a little low on planes this show—we will be featuring boats and plenty of them. Look for the Marine One display of marine craft at the Planet Ice front door and find GA Checkpoint's boat display in the Outdoor Show. To ride the train—head to the kids' section. As for planes—well, we thought you'd be happier poking around the great line-up of new cars we've brought in from Maple Ridge Chrysler and Maple Ridge Volkswagen.
FOR the LOVE of DOGS EVENT
Our third annual For the Love of Dogs event is a three-day exploration of everything dog. Here's where you come to shop for your furry best friend, learn about pet first aid, grooming, dog classes and training, as well as explore things you and your dog can do together. Informed dog experts will be on site all three days and Saturday we feature our Meet the Breeds Dog Shows at noon and 3:30—showcasing plenty of dog world royalty and some of Canada's top dogs. A meet and greet that follows will allow visitors to talk with owners and breeders about choosing the breed that suits their lifestyle and commitment level. There will also be plenty of demonstrations—ranging from obedience, protection, detection, agility and more.
BMX ACTIVE SPORTS EXTREME STUNT SHOW
Don't miss the high flying action in the corral this year, when some of the top-ranked riders in the world take bring big air jumps and half pipe demos to the home show. This is a get-active "try it zone" with bicycles and safety gear provided and patrons encouraged to give the sport of BMX a try. There will also be a scooter course for scooter enthusiasts—and what kid isn't, these days? For the little ones anxious to try bike riding, check out Tykes for Tots.
EVERYTHING BACKYARD!
Come browse and see what's new for your backyard. See our unrivalled selection of BBQs, firepits, hot tubs, outdoor kitchens and 3,000 square feet of gorgeous outdoor furnishings from Bishops Outdoor Living. The backyard of your dreams is as close as this year's home show.
OUTDOOR LIFESTYLE AND LEISURE SHOW
Live a little! Put a little adventure in your life: motorcycles, ATVs, camping equipment, outdoor gear and even boats await you at this year's show. Endless fun and the roadmap to your new active life. Including great activities you can do with your dog.
TIMES BBQ SCHOOL & TASTE EVENT
Two top chefs will be sizzling their way through mouth-watering menus –and offering tastes—-at this year's Times BBQ School. Watch & learn, then taste the results when Chef Dan Beitel of Hunger Management and Chef Dez team up with Meridian Farm Market to bring you a fresh and natural line-up of delicious offerings, created from free range and grass-fed meats raised without added growth hormones, plus…
sustainable seafood, organic and locally harvested produce and artisan breads baked fresh daily. Learn secrets from the pros that guarantee you'll be the grillin' and BBQ champ of your neighborhood.
FOOD TRUCK FESTIVAL
We know you're going to work up an appetite exploring everything at the show and what could be better to soothe the savage beast than our very own Food Truck Festival? Bring your appetite and get ready to explore the tasty offerings of no less than 15 of Vancouver's favorite food trucks?
FAMILY FEST
There's fun everywhere you look as we celebrate more than 20 years as a totally free event thanks to the generosity of sponsors and your loyal patronage of Ridge Meadows Home Show. Here's what this year's line-up looks like:
NORDEN THE MAGICIAN:
Magician of the Year award winner Mike Norden, host and master of ceremonies, will work his magic with three days of stage shows and walk around magic. Norden has won countless national and international awards is a nine time winner of the prestigious Magician of the Year award from Pacific Coast Magicians' Association.
DOOLITTLE'S PETTING ZOO:
Watch your child's face light up with the opportunity to get up close and personal with everyone's favorite barnyard animals. This perennial show stealer is consistently rated our number one event!
DOG SHOW AND MEET AND GREET:
Who doesn't love dogs? We do, that's for sure. Saturday only, noon and 3:30 join us at Family Fest for our Meet the Breeds Dog Show, followed by a meet and greet where you can get up close and personal with all our canine stars and ask questions 'til your heart's content.
ROUND UP GRANDMA AND GRANDPA for NEIL DIAMOND TRIBUTE ARTIST.
Especially for seniors, we've brought in Nearly Neil featuring Neil Diamond Tribute artist Bobby Bruce. Don't be surprised if Grandpa's tapping his toes and Grandma knows all the words to the songs. First 250 seniors receive coffee or tea and cookies courtesy McDonald's.
BUILD AND TAKE HOME A BIRDHOUSE…FREE!
Lets Build! with Haney Builders' Supplies —Kids get a chance to build (and then take home) their own birdhouse with pre-cut wood and help from Mom and Dad or, Family Fest staff. Easy and a whole lot of fun. And pretty nice for the birds, too.
BATESON'S MARTIAL ARTS GO NINJAS:
If the giant Ninjas Dojo bouncy isn't enough, kids will want to try the challenges of the Ninjas Obstacle course, created by Karen and Perry Bateson. The Bateson's have been sponsors and participants in the Family Fest for as long as its been in existence—more than twenty years!
KITCHEN PICKS HERB PLANTS…FREE!
Visit the Friends in Need Food Bank display and take a few minutes to learn about local food bank operations, Walk away with a living herb plant from Kitchen Picks, grown and donated by local growers and Friend's sponsor partners: the Pelton Family.
RONALD MCDONALD ON STAGE:
Everyone's favourite clown takes to the stage noon Sunday, May 1 at the Family Fest stage. Sure to delight young and old, Ronald will also pose for photos with his fans after the show.
WEST COAST BUBBLE SOCCER
Played with team members encased in giant plastic bubbles—this ferocious, hilarious sport will be demonstrated by West Coast Soccer with plenty of opportunities for audience participation. Just crawl right in to your own plastic bubble and the fun begins.
SPRINGFREE TRAMPOLINE TRY IT ZONE:
Bounce on over to Family Fest to take a test drive on the world's safest trampolines—in three different sizes, all enclosed, and offering a path to physical fitness for the entire family. And oh yes…a whole lotta fun, as well.
THE ART OF MUSIC TRY IT ZONE
Got a hankering to play a musical instrument? Here's your chance. You and the kids can try a wide variety of musical instruments with expert help from The Art of Music.
CALLING ALL TREKKIES
Burnett Fellowship hosts a Star Wars themed activity area, with 'build it' Lego area and other Star Wars themed activities. Perfect for the Trekkies that walk among us.
THE QUAKE COTTAGE
Shake, Rattle and Roll…..Are you prepared for the "big one" the experts keep talking about? This is your chance to experience up to an 8.0, yes we said 8.0! The Quake Cottage not only simulates the earth quake but it also offers education for you and your family to prepare for one. Try it. Sunday only.
POLICE, FIRE AND SEARCH AND RESCUE DISPLAY
What kid does't want to sit in a police car or clamber aboard a fire truck? RCMP on site Friday, Maple Ridge Fire Department and Ridge Meadows Search and Rescue all day Saturday, and Quake Cottage Sunday. Pssssst…don't tell the kids they'll also be learning a lot about what to do in emergency situations.
CIRCUS LAB
If you harbour a secret desire to join the circus, or just want to add an innovative fitness routine to your family's agenda you'll love the amazing performances of the students of Circus Lab. Aerials, trapeze, contortion and more are guaranteed to keep audiences spellbound. All three days.
CREATIVE CRAFT KINGDOM
:
A ton of fun for any child that likes to get hands-on and creative, our craft tent is the perfect spot to get the little ones involved in make and take crafting and fun.
ICG PAINT BALL
Easy way to try a great sport–it all takes place inside a 10 by 30 blow-up paint ball area at this year's Family Fest. Small fee applies….open to all ages. Gotcha!
BMX EXTREME STUNT SHOW AND TRY IT ZONE:
Promising to leave kids wide-eyed with wonder, don't miss the world ranked BMX riders at the Active Sports Extreme Stunt Shows taking place all three days. Kids will also have an opportunity to try modified BMX jumps. All equipment provided, including bikes, headgear and, of course, instruction.
TRIKES FOR TOTS:
Kids not quite ready to tackle the jumps will have their own little event to dazzle everyone with their riding skills. All equipment provided, including instruction. Too cute to miss.
WEST COAST AMUSEMENTS
Who doesn't love the sights and sounds of a carnival? Located right next door to our outdoor events, West Coast Amusements brings the fun to you with a great selection of rides and games of chance for all ages. Fee for rides and attractions.
Home Show admission
$4 single
$7 family
Gets you into all events
 Maple Ridge Albion Fairgrounds

Produced by: Maple Ridge - Pitt Meadows Home Show Society.